This page contains the supplementary material (sound examples and computer code) accompanying the paper "Inharmonic Strings and the Hyperpiano" by Kevin Hobby and William Sethares, which has just been published in Applied Acoustics. The permanent DOI is http://dx.doi.org/10.1016/j.apacoust.2016.07.029

In the audioslides, you can hear Kevin talking about the hyperpiano, its strings, and the general design philosophy. Thanks to Clark Wayne of Clockwork Sound in Evansville IN for help recording the audio. You can see the presentation on youtube.

Here are two photos of the finished instrument and a closeup of the nonuniform strings that give the hyperpiano its unique timbre: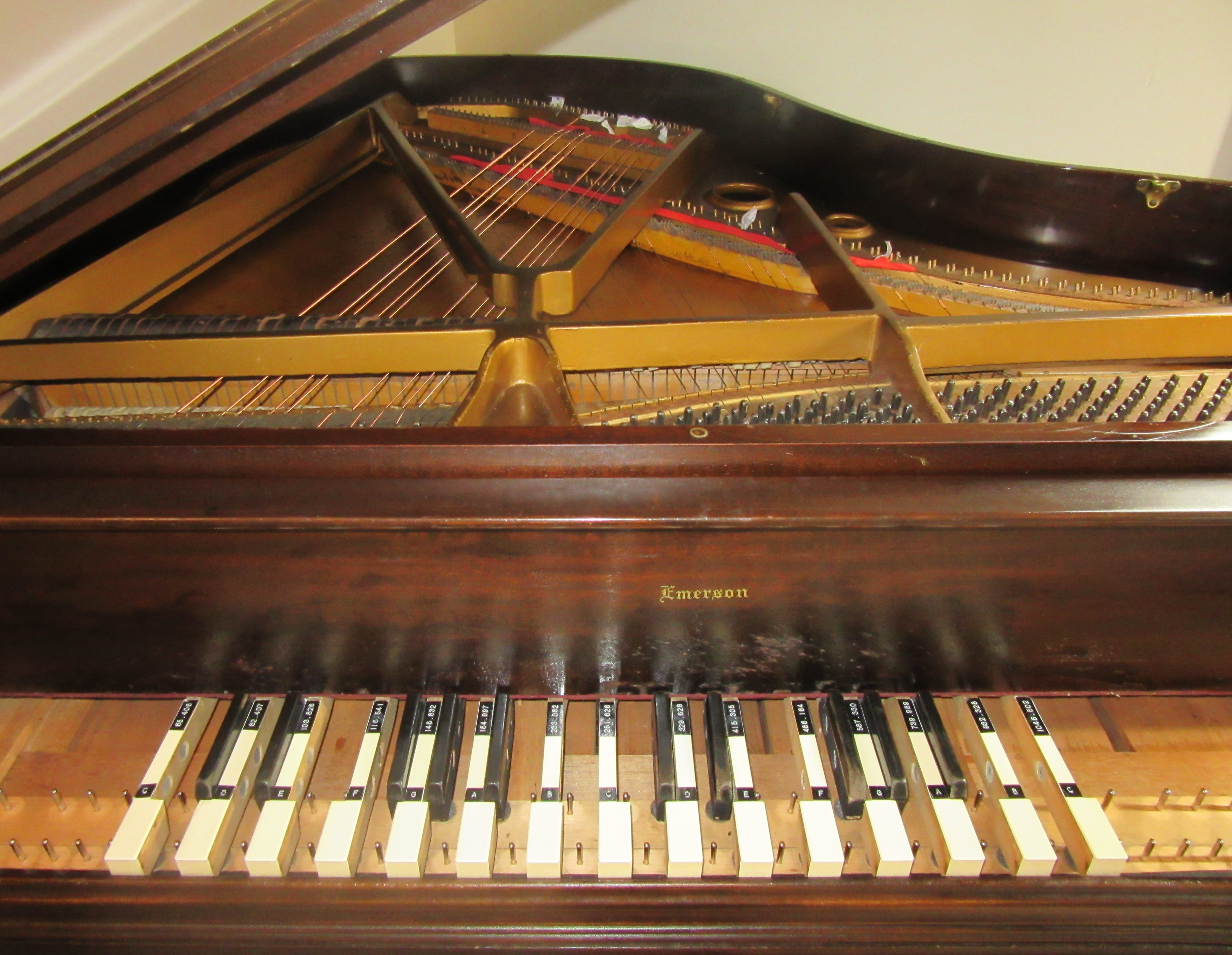 Here are links to the computer code (in the form of Mathematica notebooks) for Experiments 1-6 as described in Sections 2 and 3 of the paper (if these do not download immediately, try right-clicking and selecting "Save Link As..."). If you experience trouble with running any of these: begin with a fresh kernel (Evaluation->Quit Kernel->Local) then select all (Command-A on Mac or Control-A on PC) and execute (shift-return).
Experiment 1
(to run in Mathematica, download pluckLong.wav
and place it in the same folder as the Exp1-monochord.nb notebook).
Experiment 2
Experiment 3
Experiment 4
Experiment 5
Experiment 6
If you do not have access to Mathematica, you can download the free player and then use these cdf (computable data format) files:
Experiment 1
Experiment 2
Experiment 3
Experiment 4
Experiment 5
Experiment 6

Here is a link to a youtube video (called Video Example 1 in the paper) that shows the hyperpiano in action.
The Sound Examples are described in Section 6 of the paper:
Sound Example 1

Sound Example 2(a) (see Fig 13a)

Sound Example 2(b) (see Fig 13b)

Sound Example 2(c) (see Fig 13c)
The feasibility report by McLachlan mentioned in Reference [27] is:
Feasibility report: tuning an inharmonic bell
The Fourier analysis of all the strings of the hyperpiano is: